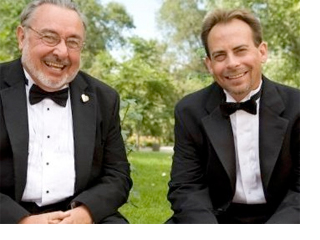 Tom Rutherford and his son Jeremy are the principals in
The Rutherford Group
- a governmental affairs consultancy based in New Mexico.
Tom served for 24 years as a State Senator in the New Mexico Legislature and was the majority floor leader when he retired in 1996. He was subsequently elected to the Bernalillo County Commission where he served for 8 years. He is a co-founder of the Albuquerque International Balloon Fiesta and a 1982 graduate of the University of New Mexico Law School. Tom's practice has always included a heavy emphasis on administrative law and governmental affairs and he was retained as General Counsel for the National Fraternal Order of Police for 6 years. In 1997 he founded The Rutherford Group, a separate entity, and began to represent local, national, and international corporations and groups before the legislature.
Jeremy Rutherford grew up in politics and is a graduate of San Francisco State University. Upon returning to NM after graduation he worked at the New Mexico Legislature as an assistant sergeant-at-arms and in the arts as assistant director of Copeland-Rutherford Gallery in Santa Fe. He is an integral part of The Rutherford Group and plays an important role in the firm's lobbying efforts.
Tom and Jeremy are consistently rated among the top lobbyists in New Mexico and work hard to serve their client's local, state, and national needs.


The Rutherford Group • P.O. Box 8747 Santa Fe NM 87504 • 505-984-0342